thinking of utilizing solar energy and need independent advice?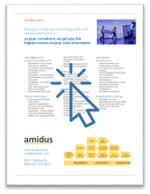 as your consultant, we get you the highest return on your solar investment.
going solar requires analysis of solar-specific tax, financial, technical, energy, and building aspects. We can help you with that: as your adviser, we sit on your side of the table and skillfully manage your solar investment from start to finish in your best interests.
due diligence & project development
independent technical and financial due diligence
site selection and evaluation
site energy resource assessment
investigation of key technical, environmental, and planning constraints
identification of candidate technology
initial layout design and financial modelling
recommended next steps
design and development
project sizing and design optimization
equipment specification
pre-contract documentation, specifications and negotiations; contract review
RFP development
financial modeling including capital costs, power purchase agreement (PPA), and operational expenditure (OPEX)
planning application advice, guidance, and completion
financing
develop project financial structure to suit owner's tax and liquidity requirements
bring in external capital from specialized investors
installation
technical advisor and owner's representative
project and site management
design review
quality assurance inspections and factory acceptance tests
built to specifications comparisons
witnessing of commissioning, and issuing of hand-over certificates
operation & maintenance
develop operation and maintenance schedule
post investment appraisal of projects
asset management, inspection and monitoring
warranty and contract management
end of manufacturer warranty inspections and audits
failure prediction and management
site safety management
monetization strategy
identifying the most advantageous solar renewable energy certificate (SREC), tax, energy sales, and entity structure